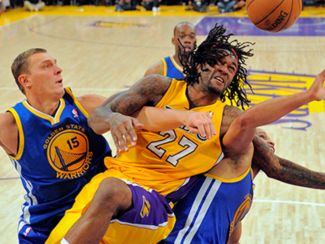 With Pau Gasol having moved on to Chicago, the battle to replace him in the starting lineup will be an interesting one to watch when training camp opens late next month.
With returnees Jordan Hill and Robert Sacre being joined by veteran newcomers Carlos Boozer and Ed Davis, not to mention first-round draft pick Julius Randle, there will be plenty of competition for the team's starting center spot.
Earlier this week we asked Lakers fans to choose which player they thought would win the job. The results are in and they come in strongly in Hill's favor, with 70 percent of voters predicting the veteran out of Arizona would earn the job.
Davis, with just more than 11 percent of the vote, edged out Boozer (10 percent) for second place, followed by Sacre and Randle.
It was interesting that Sacre finished fourth out of five considering that he started 13 games at the position last season, and that at 7-foot, 260 pounds he is really the only true center on the roster.
But his career 4.1 scoring average, and high hopes that Hill will thrive under new coach Byron Scott, may have played a role in the results.
Either way, take a look at the poll results, and offer your thoughts in the comments section below!