EL SEGUNDO, Calif. – After all the sacrifices made and all the greatness attained from hours spent on a basketball court, the moment basketball players at the college level have been waiting for finally arrives: the NBA Draft.
On that night, players from all walks of life – from highly-rated college stars to the ones hoping for a chance– experience the same feelings of pride and anxiety. At the end of the evening, those feelings are replaced by either relief or disappointment.
As the 2014 NBA Draft approaches, some of the 2013-14 Lakers players took a moment to reminisce on what that evening was like. From Chris Kaman, who was swiftly picked in one of the most coveted classes in recent memory to Jodie Meeks' momentary disappointment to his late selection; these players explain what goes on during the night that started it all.
Jodie Meeks: Making the best of a late selection
Meeks grew up dreaming about the moment his name would be called by the commissioner.
"As a little kid you're always wishing that that would be you," he said. "When it is you, it's a surreal feeling."
That feeling came with its share of disappointment however. Meeks was selected with the 41st pick by the Milwaukee Bucks in 2009; a selection he thought didn't reflect his real value.
"I didn't expect to be a number one pick but I was expecting to be picked higher that what I was," he said. "I was happy that Milwaukee gave me a chance, but I felt I should've been picked before. I feel I was a better player from what I got picked."
That wait made for a very anxious evening for the shooting guard, who watched the draft from his house surrounded by family and friends.
"I didn't know exactly where I would be picked. It's a lot of anxiety because you hear one pick and then up to the 20th pick, up to the 30th pick," he recalled. "Then my name gets called and everybody who's there for you is having a great time because they care."
As Meeks looks back on that night, he admits the effects from it still remain in his head, but in a positive way.
"When I play against someone that went ahead of me, that gives me motivation," he said. "That's why I play every game like it's my last."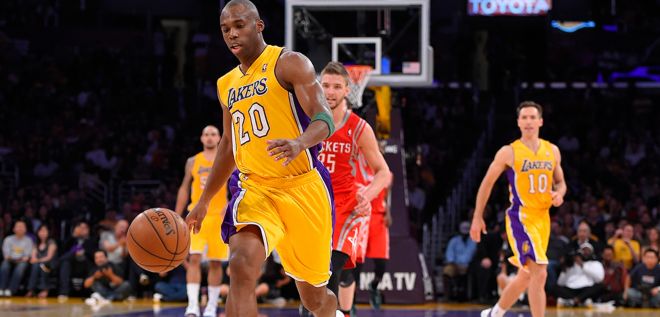 Jodie Meeks averaged 15.6 points, 1.4 steals, and 2.1 three-pointers last season, all career highs.
Chris Kaman: A pick among the best
Kaman's experience was a stark contrast to Meek's, as he was lucky enough earn an early selection.
The 2003 Draft was loaded with top talent. A guy named LeBron James led the charts and he was followed by players who are nowadays some of the biggest stars in the game, including Carmelo Anthony, Chris Bosh and Dwyane Wade (maybe not Darko Milicic). For Kaman, that meant he was going to have to wait a bit.
"There was a lot of anxiety initially, not knowing what to expect or where I was going to go," he recalled. "You got five minutes for each team so you're there waiting, waiting, waiting and you're talking to your agent back and forth… just a lot of anxiety."
In the end, he didn't have to wait too long. After all, he was recognized as one of the best college centers that season, playing for Central Michigan.
"Right when they got to Dwyane Wade at five, the Clippers had called my agency and said that they were going to take [me] so I kind of already knew, and you didn't have to worry about it anymore."
Still, the experience left him with some vivid memories of how different the experience can be for each player.
"Some guys are younger than others and aren't as well put together media-wise so I think there's a little bit of a barrier with some of the guys and you can tell," he said. "Some other guys are more polished, and then there are some guys who are just flat out nervous."
For Kaman himself, draft night was never something epic. He recalled being uninterested about the event and instead remembers being more focused on playing the game.
"You're just hanging out talking and having a good time. I was kind of in my own world," he said. "The draft was never something I watched so I didn't really know about it."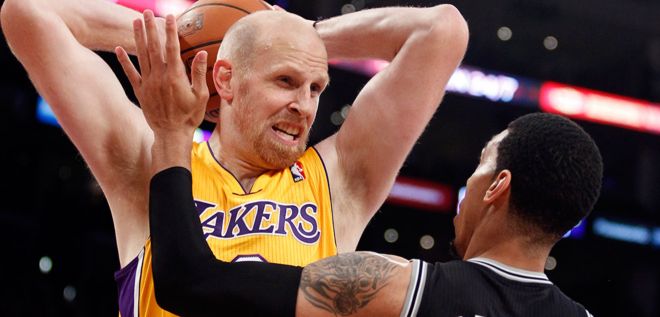 Despite his experience, Chris Kaman didn't seem to fit in the Mike D'Antoni system and his minutes with the Lakers were limited last season.
Kendall Marshall: Startled and surprised
Even though he came into the 2012 draft as a very well-regarded point guard out of UNC, Marshall never actually thought he would make it to the NBA. In fact, he was surprised to even be considered.
"I was always excited to play in college, so I always thought about college basketball. I never thought the NBA would be an opportunity," Marshall said.
Since he had that viewpoint coming into the draft, Marshall's experience was taxing. Not only was the evening tense, but everything before, from the workouts with different teams to the morning of the draft.
"Early on, it's stressful. For the first couple of workouts I was nervous, just because they don't know you and you have no idea if the team is considering you," he said. "It's nerve-wracking, the possibilities. I personally had no idea which team I was going to."
"[The draft] started around seven o'clock so you're thinking about it throughout the day, the anticipation, everything that you worked for, your entire life building up to this moment," he added.
Luckily for Marshall, the story had a good ending as he ended up being selected by the Phoenix Suns with the 13th pick.
"I was kind of startled, saying 'David Stern just said my name. I'm joining the NBA,'" he said. "I'll always remember David Stern's voice."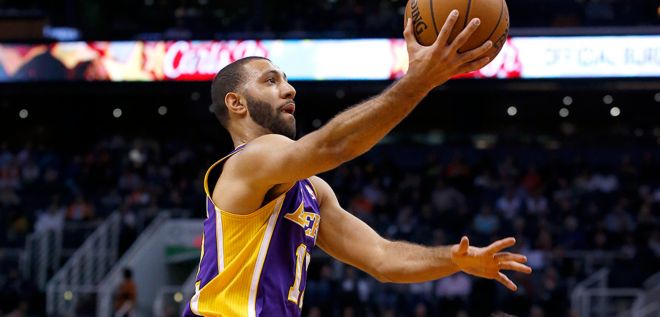 Kendall Marshall had to fill for an injured Steve Nash most of lat season. In 45 starts, he averaged 8.1 points, 9.5 assists, 1.3 3-pointers and 1.0 steals.
Ryan Kelly: Anxiety to the end
Held back by a foot injury, Ryan Kelly came into the 2013 NBA Draft not feeling sure about his chances. He knew he was good enough to play in the NBA, but he also missed a lot of time, including pre-draft workouts.
"My agent had kind of given me a window of where he thought I was going to be drafted in the second round," he said. "Personally I thought I was better than that but I had been injured. So I was sitting at home, watching the draft and just waiting. We didn't exactly know when I was going to go."
Even though family and friends in Raleigh, N.C. had come to his house to support him, Kelly sat alone in the kitchen watching from the smallest TV in the house, hoping for a team to take a chance on him regardless of his injury.
"You know this is a possibility of a dream coming true and you don't want to ever speak too soon and get too excited," he said. "To be drafted in the NBA is what I'd been dreaming about since I was a little kid. I kept trying to be alone; I wanted to watch it by myself."
In the end, the team that took that chance happened to be one of the most prestigious and successful sports franchises in history: the Los Angeles Lakers with the 48th pick.
"The second round goes by so quick, there's barely any time between picks, so I saw it on the TV and got the phone call at about the same time," he remembered. "My name popped up and then I got the phone call from [Lakers General Manager] Mitch [Kupchak]."
"When I got drafted by the Lakers I was like 'wow, there couldn't be any more perfect fit' considering how greatness is expected on a daily basis, so I was really excited."
With the anxiety out of the way, excitement followed. However, after such a strenuous day, all Kelly wanted to do was get some rest.
"I'm not one for parties, so I just spent the time with my family, kind of soaking it in, and then found myself in my bed," he said. "I tried to get some sleep, but I didn't get much."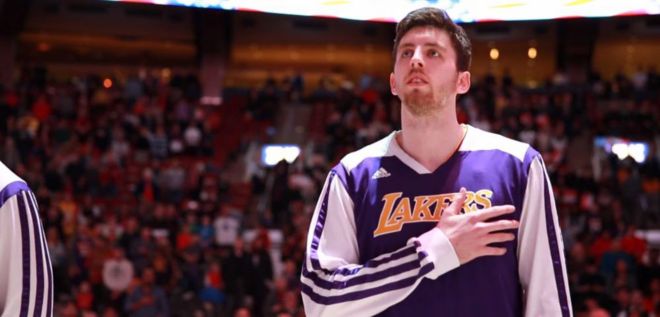 Ryan Kelly was able to take advantage during his rookie year as the Lakers missed Pau Gasol and Jordan Hill for long periods of time last season.