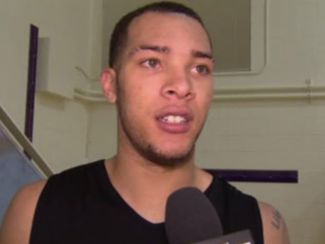 A few years ago, the thought of Davion Berry getting a look from NBA scouts was laughable.
As a 6-foot-4 guard out of Oakland, a town that produced legendary point guards like Gary Payton, Jason Kidd and Berry's friend Damian Lillard, the pedigree was there. But it's tough to get much attention while slogging along at Division-II Cal State Monterey Bay.
But Berry would eventually transfer to Lillard's old school Weber State, where he became the Big Sky Conference's Most Valuable Player.
And on Wednesday at the Toyota Center, Berry found himself playing alongside well known college stars Aaron Gordon and Doug McDermott, and guarding sleeper prospect Elfrid Payton at the Toyota Center in a workout in front of Lakers executives.
Berry took some time to talk to TWCSportsNet.com about the workout and his draft prospects in the latest edition of "3-Point Play":
Q: How did the workout go and what were you trying to show on the court?
A: "(Elfrid) Payton got after it. We challenged each other, he scored on me, I scored on him. It was fun. It was fun to compete with other good guys like this. Everybody was good people, you know? You think that they have egos because they're at the Kentuckys, they're at the Dukes, they're at the Arizonas and everything, but everybody was good. And actually I know AG (Aaron Gordon), so me and him are cool.
"I'm just trying to show that I'm a winning player and that if anybody brings me on their team I just want to do anything they want me to do, whether getting a stop, diving on the floor. I'm willing to do anything just to help the team out. If I get drafted I'll just sit on the bench and learn and just be a good teammate, develop my game and just learn and take it from there."
Q: Have you received any advice from your friend and Portland star Damian Lillard?
A: "That's my boy, we talk every other day. I'll call him, he'll call me sometimes. We try to stay away from basketball, because he talks basketball every day, all day, all season long. So we kind of just joke and play around. I asked him for advice and he gives me his best advice. He just tells me that I'm a player just like them so don't worry about none of that. Just go out there and play my game, and that's what I try to do."
Q: Do you have anything extra to prove coming from a mid-major school like Weber State?
A: "It doesn't mean nothing anymore. Players can play, whether that's at a D-II, NAIA, it doesn't matter. If a player can play and he can show a general manager or scout that he can play, then he can play, you know? You just have to take advantage of it.
"I have to have fun with it. I can't stress about anything because I'm blessed to be in this situation I'm in now. Coming from a D-II, transferring to a D-I, putting myself in a position to get NBA workouts, I'm nothing but blessed and happy. I can't take it too serious. I've just got to have fun with it and go from there."