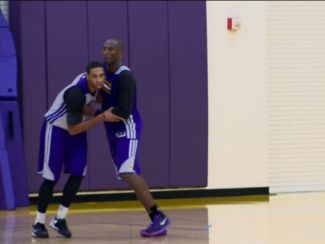 Kobe Bryant's intensive six-month program has officially started.
Bryant returned to the court on Monday for a two-hour workout session as he is now able to execute basketball activities with no limitations.
Lakers spokesman John Black told reporter Mike Trudell that Bryant practiced with "no restrictions other than what his body would limit him to do," meaning that he can now practice at any pace he desires.
Bryant, who recently returned from a short trip to Europe with his family, took to the court with teammate Wesley Johnson and some trainers. It is expected for Bryant to be ready to play by the start of training camp next season.
Bryant only played six games in the 2013-14 season after suffering a fracture on the left lateral tibial plateau in his left knee, an injury that occurred soon after returning from another career-threatening injury in his Achilles tendon.