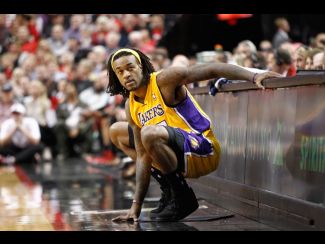 The Lakers newest stretch four might have been there all along.
According to Dave McMenamin, of ESPNLA, Lakers center Jordan Hill has been focusing on his jump shot all summer long.
Hill told McMenamin that he asked coach Mike D'Antoni what he needed to do to be a bigger part of the rotation.
"That's mostly what I've been focusing on this whole summer, not so much the post work because I know I can go down to the block and easily get an offensive rebound and putback," said Hill, who ranked sixth in the NBA last season in rebounds per 36 minutes (among players who played 25 games or more), according to BasketballReference.com. "We got Pau Gasol that can focus on the paint and we got Chris Kaman that can focus on the block. So I just want to be a stretch 4. Just try to spread the floor a little bit, just show a little range. I've been working on it the whole summer, trying to focus on that, on my 3-ball. It got a lot better. I'm just ready to put it all together and showcase it."
Having Hill be a more versatile big man could add even more depth to a Lakers lineup that ready includes Nick Young, Wesley Johnson and Kobe Bryant, who can all play the two and three spot, and Gasol and Kaman, who are versatile big men.