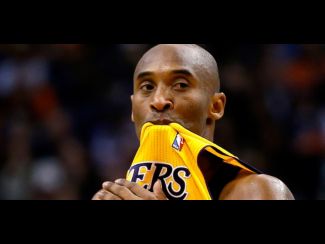 You may have noticed that Lakers star Kobe Bryant will often chew on his jersey during games. But did you ever wonder why?
T.J. Simers asks that question, and many more, in a wide-ranging interview with Bryant in the L.A. Times.
The answer Bryant gave was simple enough:
"It's disgusting, but my father taught me when your mouth gets dry, just suck the sweat out of your own jersey," he says. "There's no bravado to any of it; it's just a disgusting little trick."
I suppose Kobe could teach Bear Grylls a thing or two about survival – at least on the court.
Among other topics Simers discussed with Bryant was the possibility of Bryant's career eventually ending without another ring.
Bryant replied:
"I can't see that happening."
You can follow Bob Harkins on Twitter at @bharks.