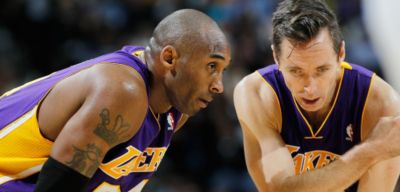 We've opened all our presents and had our share of eggnog, and now that the holiday season is winding down, there's only one thing left to do: break out our New Year's resolutions.
With that in mind, we've come up with some ideas for resolutions the Lakers might consider in the coming year. We hope you enjoy.
Kobe Bryant: It's been a busy year for The Mamba, who welcomed two new star teammates, released a really cool new shoe, and has proceeded to have one of his finest seasons to date, leading the NBA in scoring while also leading the Lakers in assists. (Not counting Steve Nash, who has only played in six games.)
So what do you wish for when you have everything? Judging by Kobe's play this season it seems like there is one thing on his New Year's resolution list. It has three letters. First one is M. Last one's P. We'll let you figure out the rest.
Dwight Howard: The Lakers big man should resolve to silence all those people who say "even Shaq shot better free throws than this guy." We've seen those comments out there on Twitter, and they just aren't true. (Shaq shot 52.7 percent for his career, 50.4 percent in the playoffs, while Howard is at 58.4 and 58.8, respectively).
But true or not, the perception is out there, and only Howard can change it. And he's building momentum to do just that heading into 2013, having shot 62 percent from the free throw line in his last 11 games. Keep it up Dwight!
Steve Nash: The offense has run much more smoothly since their point guard returned from injury, winning three of their last four. So we know Nash will do his part to make the winners on the court.
But we'd also like Nash to resolve to display his funny bone even more off the court. Whether it's trying to be buddies with Landon Donovan or parodying Batman, it's always gold! More, please!
Pau Gasol: Somewhat lost in the return of Nash from injury is the fact that the Lakers are 4-1 since the return of Gasol. Here are his numbers during that time: 33 minutes, 13.2 points, 8.4 rebounds, 5.4 assists, 2.0 blocks. That's called filling a box score, and it's simply awesome.
Keep that up, and the Lakers are going to win a lot of games.
Metta World Peace: Drill 3-pointers, harass opposing team's scorers and last but not least,stay sexy.
Jodie Meeks: Get invitation to All-Star 3-point contest. Win.
Jordan Hill: Put out trick shot video, compete against – and beat -- the Brockness Monster.
Robert Sacre: Graduate from rookie to second-year player so Pau can't pick on you so much.
--------
Have an idea for a New Year's resolution for the Lakers? Leave it in the comments section below.
You can follow Bob Harkins on Twitter at @Bharks.